Loyalty Points
SalentoInCantina rewards its customers with Loyalty Points!

Registration is required to accumulate Loyalty Points;
1 Euro spent = 1 Loyalty Point accumulated;
1 Loyalty Point = 2 Euro Cent off to use on any next order;
Loyalty Points are awarded to payment accepted;
From your Private Area you can view the accumulated loyalty points and convert them into Vouchers within 6 months;
Vouchers generated from Loyalty Points can be used within a year for orders over 30 Euros.
Rewards Program
Loyalty Points for each item are displayed in the product page:
In Shopping cart page displays the total count of Loyalty Points accumulated after purchase. Please note: Loyalty Points can not be awarded for instant checkout (fast purchase without user registration):
To show loyalty points awarded, after login, access your Private Area: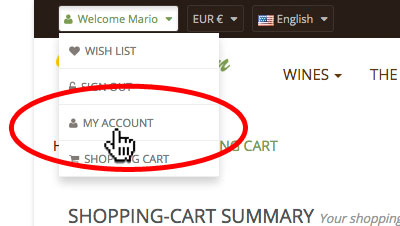 Within your Private Area, click on "MY LOYALTY POINTS":
On the "MY LOYALTY POINTS" page displays points in "awaiting validation", "available" and "already converted" in Vouchers:
Loyalty Points available can be converted into Vouchers within 6 months by click on botton:
The Voucher just generated is assigned a personal code FIDXXXXX that expires after one year from activation:
The personal voucher is displayed inside shopping cart in the following purchases and can be used in any order above 30 Euros:
For any information send email to info@salentoincantina.it or use our form to contact us.