Wine Shops, Bars e Restaurants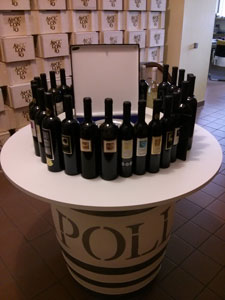 SalentoInCantina was founded by a group of natives in Salento enthusiasts of the traditions and good wine. After an exhausting search in Salento, SalentoInCantina married in full the policies and vision of the historic Apollonio Winery. The Apollonio Wine Company has a long and deep-rooted history, and was awarded with the title of "Impresa Storica d'Italia" (Historic Company of Italy). This four-generation history – yet always evolving remaining faithful to itself – began in 1870, when Noè Apollonio started his adventure, followed by his son Marcello, who would later modernized the small firm. After World War II, Marcello's son, Salvatore, marked a turning point by introducing business management. Today, it is the turn of the fourth generation to run the company: Marcello and Massimiliano Apollonio have succeeded in exporting a label that is a byword for first-rate quality and trustworthiness all over the world.
The showroom of SalentoInCantina, was created for those who are looking for tradition, taste, history that surrounds every single bottle and magical places of Salento.

Have you a wine shop, a bar or you are a restaurant owner and would like to have more and different labels for your clients without minimum order?

For you a pricing dedicated to operators and delivery in 1-2 days (for Italy, 2-3 days for Europe);

Use SalentoInCantina for your stock, be different from your competitors, fine wines of Salento are just a click away!
Send an e-mail to resellers@salentoincantina.it with your company data. Within 24 hours you will receive a confirmation email to activate your private profile.
For any information call us at (+39)3290525283 or send email to resellers@salentoincantina.it or use our form to contact us.